James McCosh of Princeton College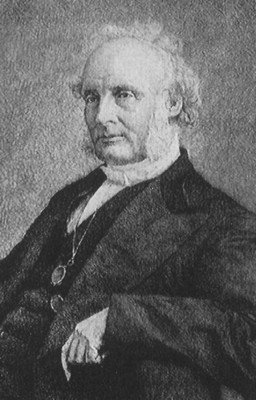 [The following article was originally published in the June 2021 edition of the Banner of Truth magazine]
James McCosh of Princeton College
McCosh Hall is one of the many fine buildings on the campus of New Jersey's Princeton University. Dating from 1907 it is, in the words of former US (and Princeton) president Woodrow Wilson, 'a noble memorial to our beloved one-time leader James McCosh.' McCosh was the eleventh president of the then Princeton College, his time in office lasting from 1868 till 1888. In an address at McCosh's inauguration Charles Hodge of Princeton Theological Seminary declared that 'never in the history of the college had an academic election been received with such a universal expression of approbation.' Nor were the hopes for McCosh's presidency disappointed. Much was accomplished in the course of his twenty years and by the time of his retirement Princeton College was flourishing as never before.
Early years
For James McCosh's beginnings we need to cross the Atlantic to Ayrshire in Scotland. On the right hand side of the Ayr to Dalmellington road, just outside the village of Patna, there is a farm-house by the name of Carskeoch. It was here that James McCosh was born on April 1st, 1811. Of his father, Andrew McCosh, who died in 1820, it is said that, 'the property with which God had entrusted him he seemed to consider as a loan…Poverty, sickness, and old age always found in him a sympathising heart, a relieving and protecting hand. Cheerfully did he perform the offices of kindness of which his Saviour had set him an example.'
James McCosh himself confirms the correctness of this and adds, 'I am proud of it.' Every Lord's Day the McCosh family would cross by the hill-track from Carskeoch to the village of Straiton, a distance of four miles, to worship in the Straiton Parish Church. The interval between the morning and afternoon services would often be spent in the home of a family that had fallen on hard times. 'We carried with us into the man's house a considerable stock of provisions, of which we partook ourselves, and left the larger portion to the family. We children were ordered to say nothing about it to any one.'
In 1829, after five years of study in Glasgow, James McCosh began to train for gospel ministry at the University of Edinburgh. To two of his teachers there he was especially indebted. One was the Professor of Church History, Dr. David Welsh; the other, the Professor of Divinity, Dr. Thomas Chalmers. Chalmers, he would later write, 'was the man whom I regard as upon the whole the greatest I have ever met with.' It was Chalmers' lectures that moved him most. They 'raised me from day to day above myself and above the world.'
The primary source for this article is The Life of James McCosh, A Record Chiefly Autobiographical, edited by William M. Sloane. Neither in the autobiography nor the editorial sections is there a detailed account of God's work of salvation in McCosh's life, only hints. We learn, for example, that he grew up under evangelical preaching. In the Straiton church 'we had first Dr. Paul, and after him, Dr. Paton, who was settled later in Glasgow. They both preached the gospel in carefully prepared sermons', something that was by no means the case in every parish church in Scotland. He recalls how both of these men were kind to him.
Reflecting back on his days as a divinity student he confesses that 'some of us did not inquire into our spiritual state before God as we should have done. Yet there were times when we did so.' On one such occasion, in a letter to his friend and fellow-student John Anderson, later a Free Church of Scotland missionary in India, McCosh evidently poured out his heart. In his reply Anderson writes, 'I have thought of you with tears as a dear friend in great extremity; and I have prayed for you…that God may be pleased to show you His glory in the face of Christ crucified, to let in so powerfully upon your soul that you shall be made willing instantly, and be filled with a determination to glory in nothing but in His Son.'
Those prayers were answered. McCosh's resolution, on being licensed by the presbytery of Ayr in the spring of 1834, was 'never to preach anything but the gospel as alone fitted to move and regenerate mankind; and to do this in language which old and young, and rich and poor could comprehend.' Nor did this resolution waver. In 1888, the year of his retirement from the presidency of Princeton, he was invited by his publisher friends, the Carter Brothers, to select some sermons for publication. This is from the preface: 'Hitherto my published works have been chiefly philosophical. But all along while I was lecturing and writing on philosophy I was also preaching. I am anxious that the public should know that much as I value philosophy, I place the gospel of Jesus Christ above it.' He concludes, 'Of the many discourses which I have delivered…I have selected those in which I have been enabled to proclaim most clearly the way of salvation.' The book's brief and simple title is Gospel Sermons.
Pastoral ministry
James McCosh was in pastoral ministry in Scotland for sixteen years, first in the east coast town of Arbroath (1835-1839), and then, a few miles to the north, in the town of Brechin (1839-1851). The Brechin church had a huge membership. Writing many years afterwards about the advantages of the parish system for pastoral work, he says, 'My colleague and I' – the reference is to the Rev. Alexander Foote – 'had upwards of fourteen hundred members in our church to whom we preached the gospel, and we were able to look after every individual, male and female, old and young, in the district.' The disruption of the Church of Scotland in 1843 meant the breaking up of the parish system, a matter of deep regret to McCosh who regarded it as 'a most powerful means of sustaining and diffusing religion in the country.' He and his colleague, however, sided at the Disruption with the Free Church of Scotland, McCosh becoming minister of Brechin's East Free Church, Foote of the West Free Church.
Belfast
In 1851 McCosh entered on what his biographer calls the 'first epoch of a life-work', namely the teaching of philosophy. Philosophy had been his passion from his university days. His first major work, published in 1850, The Method of the Divine Government, Physical and Moral, was a contribution to Christian philosophical thought. It was this that led to his appointment – without his knowledge! – to the Chair of Logic and Metaphysics at the newly-formed Queen's University in Belfast. He was to remain in Belfast for seventeen years until the invitation came to the presidency of Princeton College in 1868. There too, in addition to his administrative duties, he taught philosophy.
Princeton
According to Sloane, the editor of McCosh's Life, Princeton College 'had for a time been sadly crippled, partly by poverty, and partly by the absence of enthusiasm among her graduates as a whole.' Under McCosh's presidency, however, it was to enter upon an era of significant prosperity. Four chapters of the Life, originally delivered as an address at the time of his resignation in 1888, are devoted to personal reminiscences of his twenty years as president. They detail such things as the erection of new buildings (including a hugely popular gymnasium), expansion of the faculty and curriculum, steady increase in the number of students, his successful war against certain 'degrading college customs', and seasons of revival among the students.
'In 1876', to take one example, 'we had a deep religious revival. Meetings for conference and prayers were held by the students every day and every night. Every student, indeed every member of the college, felt awed and subdued. It was estimated that upwards of one hundred were converted. I know that the great body of them, if not all, have continued faithful, are leading consistent lives, and are doing good over wide regions in this land and in others.'
The fine state of McCosh's health, both physically and mentally, might have been an argument for pressing on as president, even though, by 1888, he was seventy-seven years of age. But, as Sloane explains, 'he feared lest the infirmities of old age might gradually cloud his judgment, lest the advancement of Princeton might thus suffer a check, lest the dignity and influence of a long life might be impaired by feebleness at its close.'
James McCosh lived till 1894. He was thus able to witness the opening, in 1892, of a campus infirmary, named after his wife Isabella. Its successor today is the McCosh Health Center. Among his last written words are these: 'Farewell, hill and dale, mountain and valley, river and brook, lake and outflow, forest and shady dell, sun and moon, earth and sky…Welcome what immeasurably exceeds all these – Heaven with its glory! Heaven with its angels that excel in strength! Heaven with the spirits of just men made perfect! Heaven with Jesus himself, so full of tenderness! Heaven with Father, Son, and Holy Ghost.'