Holiday Bible Club 2017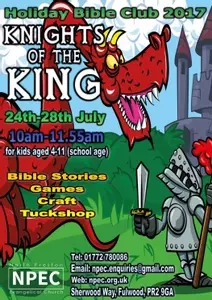 This year the theme was Knights of the King! There were approx 50 children each day which was really encouraging.
The team of helper were really enthusiastic in making the week so special such as organising the craft, doing the art work, doing the memory verse each day (which were presented in a fun and easy form), and some even did some medieval role play to tell the story in a more engaging way.

Throughout the week, the children played a range of games in their teams, whilst other teams did craft or biscuit decorating upstairs. At the end of each morning the children would each get a wristband with that day's memory verse on (to help them remember it easier).

On the Friday evening there was a family BBQ (Cooked for outside in the pouring rain by our intrepid chefs). In the church lounge there was a range of toys for the children to play with, that all somehow found themselves into the main worship area, which added to the atmosphere.
At the end of the evening Pastor David Campbell gave a talk about how the Knights of the King theme tied into the Bible which the adults and children seemed to listen intently to. A great week was had by all.
Hope that you can come next year!!!